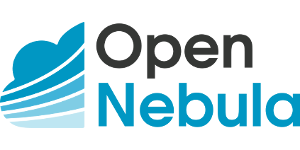 Madrid, Spain, October 5th, 2015 – CloudWeavers and OpenNebula Systems team up to build turnkey hyperconverged infrastructures for next-generation enterprise computing. NodeWeaver is a drop-in replacement for traditional virtualization systems, avoiding the need for expensive and complex SANs and traditional storage systems. Thanks to its integrated LizardFS distributed file system, NodeWeaver replaces the outdated concepts of LUNs and fixed allocations with a single "sea of data", from which the integrated OpenNebula orchestrator can manage the virtual machines and the associated disk images.
NodeWeaver is a novel hyperconverged solution designed specifically for small and medium enterprises and Public Administrations; available both as NodeWeaver appliances – physical nodes that integrate virtualization, storage and networking in a single self-managing box, or as a software-only solution on existing hardware, delivered as a self-executing USB key.
OpenNebula Systems is the company behind the OpenNebula project, aimed at delivering a robust, enterprise-ready cloud computing platform for managing heterogeneous distributed data center infrastructures. The OpenNebula cloud management platform orchestrates a data center's virtual infrastructure to build private, public and hybrid implementations of infrastructure as a service, providing the most simple but feature-rich and flexible solution for the comprehensive management of virtualized data centers. OpenNebula interoperability makes cloud an evolution by leveraging existing IT assets, protecting previous investments, and avoiding vendor lock-in.
"Being an appliance specifically designed for the SMB market, stability and user friendliness are essential features we expect in a cloud orchestrator", commented Carlo Daffara, CTO of CloudWeavers. "OpenNebula brings all the features that we need, with a codebase that is substantially smaller than competing open source platforms, simpler and more modular as well, greatly simplifying our work and donating an exceptional stability that is clearly perceived by our end users. The OpenNebula project itself is user-driven, with a substantial community of real implementors that gives us confidence in the long term direction of what has repeatedly demonstrated to be one of the best cloud orchestrator."
"OpenNebula is truly oriented towards freedom of choice in the datacenter, proposing a cloud paradigm that does not break the existing datacenter ecosystem",  said Ruben S. Montero, CTO of OpenNebula Systems. "We are happy to team up with experts at CloudWeavers to delivered an all encompassing solution for the datacenter, with a carefully chosen set of open source components to deliver a smooth and robust cloud experience".
About CloudWeavers
The spinoff of a research group, CloudWeavers was created with the mission of bringing the results of more than 9 years of EU research on cloud and distributed systems to European small and medium enterprises and public administrations – helping any company, any municipality to take advantage of simpler, more reliable IT infrastructure. We offer Reliability as a Service.
More about CloudWeavers at http://www.nodeweaver.eu and http://www.cloudweavers.eu or by email at info@nodeweaver.eu
About OpenNebula Systems
OpenNebula Systems, the leader in private cloud computing management, is a Technology Company built on understanding its customers and partners needs. The company offers a comprehensive set of support subscription services, through which customers and partners can get production level support or build a custom cloud infrastructure or solution. OpenNebula Systems has a global presence with offices in Europe and the United States.
More about OpenNebula Systems at www.opennebula.systems or contact@opennebula.systems
More about OpenNebula at www.opennebula.org or contact@opennebula.org